FOR IMMEDIATE RELEASE...
Contact:
JR Rodrigues
JRBM Software
P.O. Box 7815
Cumberland, RI 02864
jr@jrbmsoft.com
UNIQUE JOB SEARCH MANAGEMENT SOFTWARE OFFERS A NEW APPROACH FOR JOB SEEKERS
Job Hunt Express helps candidates succeed in difficult job market
July 23, 2009 – Cumberland, RI – JRBM Software announced today the release of Job Hunt Express™, a pioneering Job Search Management (JSM) software package for job seekers who are facing what some are calling the most difficult job market in memory. Based upon proven Sales Force Automation (SFA) techniques from the business world, the easy-to-use and economical software system makes job seekers and their job hunt more efficient and more effective, thereby increasing their chances of securing a good job as quickly as possible despite the increased competition for scarce jobs in the current economy.
"Everything is different now. In the past nine months, the job hunt has become an unfamiliar and overwhelming ordeal for the typical candidate. It is no longer enough to send out a few resumes and wait for a call back. Instead, it has morphed into a high volume strategy and numbers game in which job seekers must apply to many more open positions, follow up more frequently with recruiters and hiring managers, and network with more business and social contacts than ever before," said JR Rodrigues, co-founder of JRBM Software. "To complicate matters further, job hunters must seek out and follow through with widely scattered online job postings, newspaper job listings, recruiters, friends/colleagues, job fairs, and other networking events. Job Hunt Express was developed specifically to address this new, much more intense environment."
Bringing the power of sales force automation tools to the job candidate, the Job Hunt Express software system allows job seekers to quickly organize all of their job opportunities, recruiters, networking contacts, and other important data. All related notes, hiring manager "hot buttons", documents, and data are easily stored and retrieved for each contact. The system further provides for effective strategic planning, tracking, and follow-up of all job opportunities – much like the more expensive and complex CRM or sales force automation tools used regularly by sales professionals to maximize their sales results. Based upon state-of-the-art Microsoft Mobile SQL database and .Net technology, the economical software combines practical functionality and convenience with an intuitive, easy-to-use interface so that any job seeker can benefit from its use.
"The hiring process is really a high stakes selling exercise for the job seeker. You have to "sell" the hiring manager, and likely others, on the fact that you are the best candidate for the job," said Tim Tippett, a Boston-based sales executive and user of Job Hunt Express. "This easy to use software program got me organized and working more efficiently very quickly and enhances my ability to create strategies to sell myself to employers, much like the more expensive contact management systems that I have used in various sales jobs throughout my career."
Beating the "Resume Black Hole"
The ranks of the unemployed continue to grow as companies shrink staff due to the current economic downturn. This has led to what some experts have called the toughest and most competitive job market in our lifetime. Hundreds of resumes are often submitted for a single job opening, thereby forcing recruiters and hiring managers to gloss over most candidates' credentials in mere seconds and typically not even acknowledge their receipt. This resume "black hole" is causing significant frustration and feelings of helplessness on the part of otherwise qualified job candidates. Likewise, the overwhelming number of job search websites, online and offline help wanted ads, job fairs, networking events, professional recruiters, friend/colleague referrals and all of the associated contact data only add to the very real despair felt by many job candidates every day. These job seekers must take back control of the job hunt process and their careers by using every method possible to stay in contact and ultimately persuade the hiring decision-maker that he or she is the right person for the job. This is extremely difficult to do if an applicant is not truly organized and completely focused on the myriad strategies and tactics involved in a successful job search. Job Hunt Express was developed specifically to empower job seekers to beat the "Resume Black Hole" and get hired more quickly by benefiting from the organization, automation, and planning functionality offered by the latest in computer technology.
About Job Hunt Express
Job Hunt Express offers state-of-the-art tools to make job candidates more efficient and more effective in their quest for their next great job. It provides functionality akin to the software that sales professionals use on a daily basis to maximize their selling results but with a specialized focus on job hunting. For example, centralization of all data (contact information, notes, hiring manager "hot buttons", documents, web links, etc.) related to a job opportunity is an important start to the Job Hunt Express methodology. Planning a customized strategy for each opportunity and organizing it into a structured calendar of calls, meetings, and other activities is the next important step in the process. Automatic updating and tracking of the implementation and execution of the strategic plan for each job opportunity is another key component in ensuring that job hunters are putting their best foot forward and not letting any opportunity slip through the cracks. Job Hunt Express keeps the user's job search focused and on track until the next job offer is accepted.
Price and Availability
Job Hunt Express is available now at an introductory price of $29.95. For less than the cost of a tank of gas or a new video game, any job seeker easily can justify the purchase of this helpful new technology and begin benefiting from it within minutes. More information can be found and the software can be purchased and instantly downloaded at www.JobHuntExpress.com
Selected Benefits for Job Hunt Express Users
Store all job hunt data in one easily accessible place.
Map out and manage custom strategies and tactics for every job opportunity.
Wake up every morning with a To-Do list for moving the job search forward.
Ensure consistency/frequency of communications with hiring managers, recruiters and others in the job network.
Focus efforts on getting the job, instead of worrying about the nuts and bolts of the job hunt process.
About JRBM Software
JRBM Software is based in Cumberland, RI, and was co-founded by two software industry executives with a combined experience of over 50 years spanning system design, development, support, operations, sales, marketing and general management. Along the way, they developed a keen eye for what works, what doesn't and, most importantly, what provides real value to users. JRBM Software prides itself on providing high value technology at a very low cost to its customers. Its flagship product is Job Hunt Express, a very economical Job Search Management (JSM) software package that makes job seekers more efficient and effective. Additional information about the software and the company can be found at www.JobHuntExpress.com
Job Hunt Expressis a trademark of JRBM Software. All other product names are trademarks of their respective companies.
If preferred, a Microsoft Word or Adobe Acrobat document version of the press release can be emailed, faxed, or mailed to you. Please send a request to jr@jrbmsoft.com
Job Hunt Express Screenshot: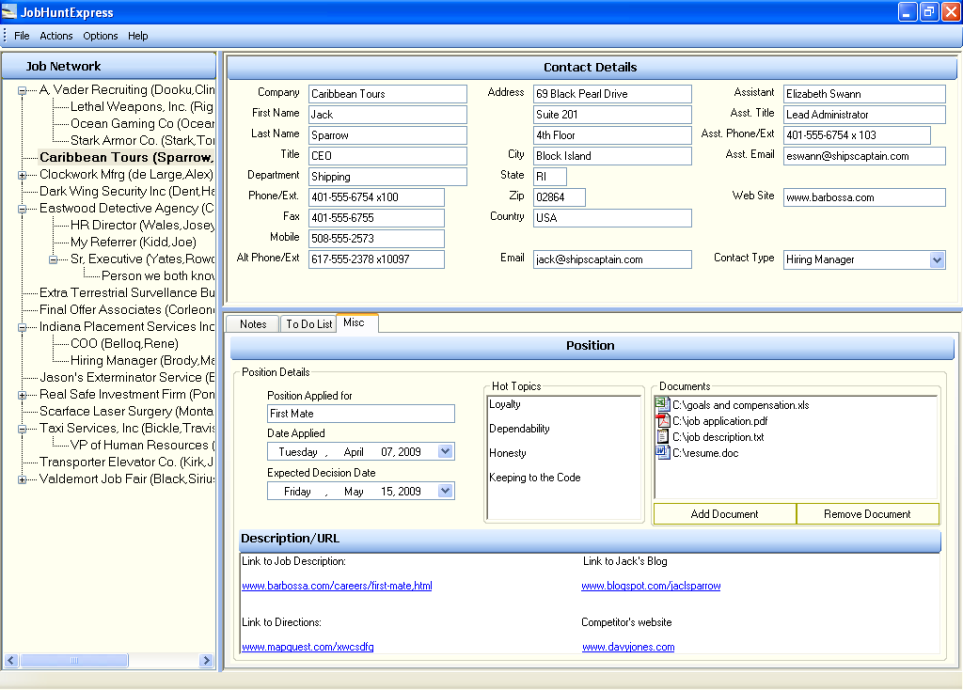 Job Hunt Express Product Image: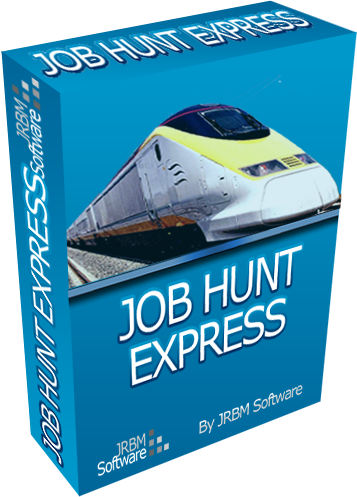 Please contact us at jr@jrbmsoft.com if you require different file formats than provided above or would prefer to have these graphics emailed to you.